Are you in search of a reliable and high-performance virtual private server (VPS) provider in Thailand? Look no further because we've got you covered. Thailand VPS providers have been emerging in recent years, offering high-quality hosting services to customers worldwide.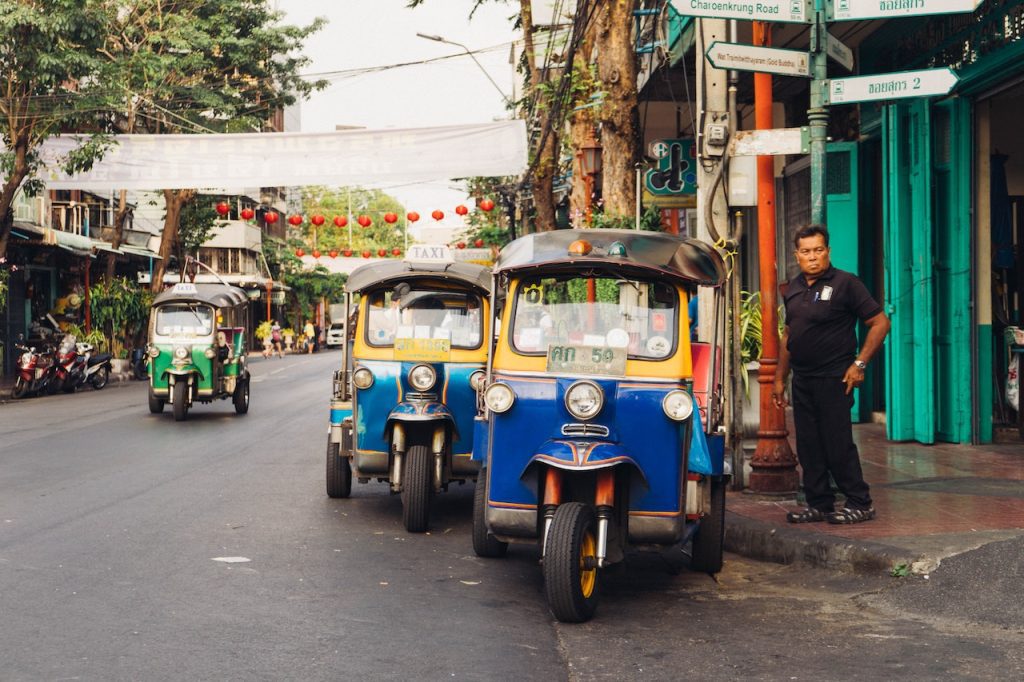 In this article, we will take a closer look at some of the best Thailand VPS providers that are worth considering for your next project. With their advanced infrastructure, excellent customer support, and affordable pricing, these providers can help you take your online presence to the next level. So, let's dive in and explore the top Thailand VPS providers.
Cheap and Best Thailand VPS Providers
LightNode, founded in 2002, delivers a wide variety of more than 33 VPS locations across the globe. They provide high-performance SSD VPS servers and premium global cloud servers to guarantee quality and dependability. Offering flexible hourly and monthly billing, their services utilize 100% KVM virtualization to cater to their clients' needs. They have many of their own data centers and servers in Southeast Asia and the Middle East, which is their advantage.
LightNode Plan and Pricing
| | | | | | |
| --- | --- | --- | --- | --- | --- |
| CPU | Memory | Storage | Traffic | Total monthly Price | VPS Pay per hour |
| 1 | 2GB | 50GB SSD | 1TB | $7.7 | $0.012/hour |
| 2 | 4GB | 50GB SSD | 1TB | $13.7 | $0.021/hour |
| 4 | 8GB | 50GB SSD | 2TB | $26.7 | $0.040/hour |
| 8 | 16GB | 50GB SSD | 2TB | $50.7 | $0.076/hour |
| 16 | 32GB | 50GB SSD | 2TB | $98.7 | $0.147/hour |
They offers a bonus of up to $15 upon the initial recharge.
Windows OS: Free(Windows 10, Windows server 2008, Windows server 2012, Windoes server 2016, Windows server 2019)
Linux OS: Ubuntu, Debian, Arch Linux, CentOS, Rocky Linux, AlmaLinux, FreeBSD
Apps: CyberPanel, OpenLiteSpeed WordPress, Cloud Panel 2, UTunnel, cPanel & WHM 102.0.18, BT-Panel 7.3.0, WordPress 5.4.2, BlueStacks (pre-installed), MikroTik RouterOS
Locations:Malaysia(Kuala Lumpur), Chile(Santiago), Mexico(Mexico City), Vietnam(Hanoi, Ho Chi Minh), United States(Silicon Valley, Washington), Thailand(Bangkok), Cambodia(Phnom Penh), South Africa(Johannesburg), Bangladesh(Dhaka), Philippines(Manila), Singapore, United Arab Emirates(Dubai), Saudi Arabia(Riyadh, Jeddah), Germany(Frankfurt), Japan(Tokyo), Brazil(Sao Paulo), Egypt(Cairo), Bahrain, Bulgaria(Sofia), Greece(Athens), China(Taipei II, Hong Kong), United Kingdom(London), Turkey(Istanbul II), Oman(Muscat), Kuwait(Kuwait City), France(Marseille), Pakistan(Karachi), Nepal(Kathmandu), Russia(Moscow), Argentina(Buenos Aires), Indonesia(Jakarta), Myanmar(Yangon)
Arkecx (Ark Edge Cloud) is an enterprise-level cloud service brand created by Zenlayer in 2022. Zenlayer is a well-known edge cloud service provider with over 150 nodes worldwide and customers across the globe, including many well-known enterprises. Arkecx offers optimized routes for mainland China and international traffic, and there is a speed boost between nodes.
The platform has been discontinued; it is recommended to use LightNode.com as an alternative.
ArkEcx Plan and Pricing
| | | | | | |
| --- | --- | --- | --- | --- | --- |
| CPU | Memory | Storage | Traffic | Monthly Price | Annually Price |
| 1 | 1GB | 25GB SSD | 1TB | – | $10/mo |
| 2 | 2GB | 75GB SSD | 3TB | $20 | $17/mo |
| 2 | 4GB | 100GB SSD | 4TB | $25 | $21.25/mo |
| 4 | 4GB | 100GB SSD | 4TB | $40 | $34/mo |
| 4 | 8GB | 160GB SSD | 5TB | $45 | $38.25/mo |
| 8 | 8GB | 200GB SSD | 6TB | $80 | $68/mo |
| 8 | 16GB | 300GB SSD | 8TB | $100 | $85/mo |
| 8 | 32GB | 600GB SSD | 12TB | $160 | $136/mo |
+ $5.00/mo : Brazil, Thailand, Vietnam, Taiwan.
+ $10.00/mo : Philippines, Indonesia, Turkey, United Arab Emirates, Poland, Nigeria, South Korea, Qatar.
Buy four VPS with the same specifications on a monthly basis at the same time to get a 40% discount.
Locations:Amsterdam, Bangkok, Brazil, China (Hong Kong), Chicago, Dallas, Philippines, Fujairah City, Hanoi, Indonesia, Istanbul, Japan (Tokyo), Kuala Lumpur, Nigeria, London, Los Angeles, Madrid, Malaysia, Moscow, Poland, Qatar (Doha), South Korea, Taiwan, Thailand, Turkey, United Arab Emirates (Dubai, Fujairah City), United Kingdom (London), United States (Washington D.C., Los Angeles, Dallas, Miami, San Jose, Chicago).
VinaHost is a company that provides cloud/server/hosting/CDN services. They have been operating for 15 years in Vietnam and North America. VinaHost offers a range of services such as server colocation, cloud servers, CDN, web hosting, VPS, domain names, web design, email, licenses, hardware, anti-DDoS proxy, and SSL certificates. They have partnerships with both Vietnamese and international individuals and enterprises. VinaHost aims to deliver quality services and solutions, with a highly skilled workforce and the ability to scale sustainably. They have English-speaking staff members and provide support for international customers.
Vinahost VPS Plan and Pricing
CPU
Memory
Storage
Traffic
Monthly Price
Annually Price
1-Vietnam
1GB
20GB SSD
Unlimited@100M
$5.25/mo
At least 3 months
-10%
2-Vietnam
2GB
40GB SSD
Unlimited@100M
$11.5
-10%
3-Vietnam
4GB
50GB SSD
Unlimited@100M
$19.25
-10%
6-Vietnam
8GB
60GB SSD
Unlimited@100M
$36.25
-10%
2-Thailand
1GB
15GB SSD
Unlimited@100M
$20
-10%
2-Thailand
2GB
50GB SSD
Unlimited@100M
$29
-10%
2-Thailand
3GB
100GB SSD
Unlimited@100M
$47
-10%
4-Thailand
4GB
150GB SSD
Unlimited@100M
$67.5
-10%
1-Cambodia
1GB
100GB SSD
Unlimited
$24
-10%
2-Cambodia
2GB
100GB SSD
Unlimited
$44
-10%
3-Cambodia
4GB
100GB SSD
Unlimited
$74
-10%
1-Singapore
1GB
25GB SSD
Unlimited
$11
-10%
2-Singapore
2GB
40GB SSD
Unlimited
$22.5
-10%
3-Singapore
4GB
55GB SSD
Unlimited
$34.5
-10%
4-Singapore
8GB
90GB SSD
Unlimited
$74.5
-10%
For local enterprises in Vietnam, VPS only provides Vietnam, Thailand, Singapore, Cambodia locations
Windows OS(Windows server 2012, Windows server 2016, Windows server 2019, Windows server 2022, Windows 7, Windows 10).
Linux OS: Debian, Ubuntu, CentOS, AlmaLinux.
Others: Web Hosting, MMO VPS, DirectAdmin, Domain, SSL.
Additional IPv4: $5.
Locations:Cambodia, Singapore, South Korea, Thailand, United States, Vietnam.
---
VPS FAQ
1. What is a VPS, and what is it used for?
A Virtual Private Server (VPS) is a virtualized server solution for websites and software applications. It offers dedicated resources such as CPU, RAM, and storage, which are isolated on a virtual machine dedicated to the user. This ensures higher stability, performance, and security compared to shared hosting, where resources are shared between multiple users. VPS hosting is suitable for a variety of applications, including e-commerce websites, content-rich websites, and visual media platforms. It is also ideal for hosting software applications such as portals, extranets, collaborative solutions, wikis, and CRM systems. Compared to physical servers, VPS server provides the benefits of high performance and reliability, without the added complexity of managing the server's physical hardware. Therefore, it offers a practical and cost-effective solution that sits between shared hosting and dedicated servers.
2. Who can use a VPS?
To start a VPS plan, one must have a user experience of server administration. This is necessary for effectively manage vps operating system (OS whether it is Linux or Windows) and configuring various applications on the server.
3. Why host your websites with VPS?
VPS hosting is a popular choice for website owners who want more control and flexibility over their hosting environment. It offers dedicated resources like , allowing for better performance, scalability, and security compared to shared hosting. Additionally, VPS hosting services allow you to customize your server settings and install software as needed, providing more control over your hosting environment. Despite these advantages, VPS hosting is still more affordable than dedicated server hosting, making it a cost-effective option for businesses or individuals who need more resources than shared hosting can provide. Overall, hosting your website with a VPS can provide you with a high level of performance, security, and control, without breaking the bank.
4. Can I host several websites on a VPS?
Certainly. It is possible to host multiple websites on a Virtual Private Server (VPS) by dividing and configuring it according to your needs. By creating individual compartments for each website, you can allocate the necessary resources for each one like disk space, CPU and RAM. Additionally, you have the flexibility to determine the size of each compartment. To simplify the process, you can install a web hosting control panel such as Plesk or cPanel.
5.Will I get a domain name and email service included with my VPS?
No, most providers' VPS solutions do not include a domain name or email service.
6. What are the differences between VPS and Public Cloud solutions?
VPS (Virtual Private Server) and Public Cloud solutions are two distinct hosting options for applications and websites. A VPS provides a virtualized environment within a physical server, allowing users to have full control over the server's resources and software. It is often used for pre-production or production environments where users need more flexibility and control over their hosting environment. On the other hand, Public Cloud solutions offer a multi-server infrastructure where resources are dynamically allocated based on demand. Public Cloud solutions provide high availability, scalability, and flexibility with minimal maintenance required. They often come with advanced features like load balancing, automatic scaling, and high availability that make them ideal for large-scale applications and websites.
7. What are the advantages of a VPS, compared to a dedicated server?
A VPS (Virtual Private Server) has several advantages over a dedicated hosting, including:
1. It is more cost-effective(Pay-As-You-Go VPS is a good choice.).
2. It is scalable, allowing users to adjust resources up or down as needed.
3. It offers more flexibility and control over the server environment.
4. It provides a high level of security, as each VPS is isolated from other VPS instances on the same physical server.
5. It is reliable, with a guaranteed uptime.